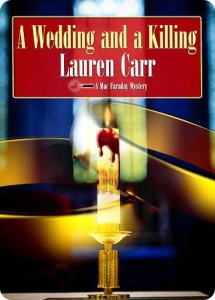 (Mac Faraday mysteries # 8)
Review:
I just got to say, the cover really got me. I had to look and look again just to see what it was and after knowing what the story was all about the cover really made sense. The candle and a splatter of blood, plus the church candle holder and the marriage rings….. Yup, it basically told you what the story was about. But I love looking at the cover because it can be interpreted in so many different ways.
Anyways…..this can be read as a standalone.
Finally there's going to be a wedding!!! If you've been following this series you know you couldn't wait for this moment!
Mac Faraday and Archie Monday are finally going to get hitched! Well, more like elope first then throw the huge party later. These two have been at it for a long time so it is great to see them stepping into the plate for the home run. But then before they even get to saying their vows the beastly dog Gnarly, whom belonged to Mac's birth mother and Archie's boss, has to go sniffing up a murder. Not entirely his fault for having such a great nose for but hey, who would want to murder a nice church going dude with nearly no enemy in sight?
And like I said it is great seeing how Mac and Archie's relationship evolved throughout the series. They're still learning and growing and getting used to finally becoming a family.
And of course as always, Lauren always has twists and turns in these mysteries, and this is another one of them. But aside from all the mysteries, secrets are uncovered about its church members and there seems to be lots of motives among them. Not so peaceful now is it? It was super interesting finding out and getting these evidence.
And then there's the humor. Love it! Gnarly is just the highlight of the book. He's the one that brings all the humor and whacky comments from. Being a dog can be tough it seems so being able to bring in the humor for being a smart dog is fantastic.
Also, did I mention that Mac's half-brother, David, is back? Yup, he's back and all grown up! Well, more grown up than maybe the last time you saw him in
IT'S MURDER, MY SON
. These two brothers are just adorable. They both have their quirks and humor and both are just amazing mates to their lady loves. And since both of them are in the police and detective work they both can also be a bit competitive in proving how well they are at don't ng their job. It can be a bit difficult at times because they weren't willing to let the other out best them so the competitive nature of it some what impacted the solving of the case. But don't worry, it got solved.
And since this murder took place in a church, there were lots of religious mentions and related stuff. It's was cool but maybe a bit unsuspecting for some. It also had a lot of info and report on counseling and couple counseling so I felt like it was telling me something major. Not just a story but for me to take from and use outside of the book in real life.
All in all, I love Lauren's Mystery novels. The Mac Faraday mysteries are her most well known series but I love them all. They're so much fun with its humor and twists. And I still super love how Lauren provides a character list with the names and roles in the story.
This book was provided by the author for an honest review.
Rating: 4 out of 5