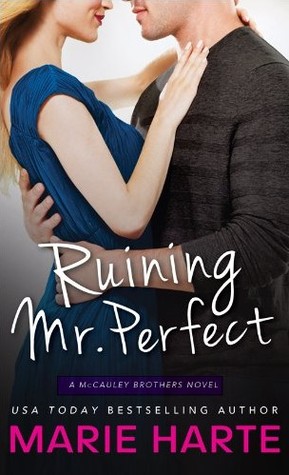 Ruining Mr. Perfect
(The McCauley Brothers #3)
Wow, this was a great book! I really enjoyed reading this and will have to see what Marie has next, especially for the eldest McCauley brother~
Though I haven't read the previous two books in this series, I may have too just to catch up and fill myself in on stuff on their stories. But this can most certainly be read as a standalone.
But in this third story, it's about the all perfect and responsible youngest brother in the family, Cameron. He's the supposed emotional and sensitive one of the brothers who's more in touch with his softer side. A mama's boy at heart and nothing like their father, he gets teased and poked on by all the guys in the family.
From what we know, he has a huge crush on the girl next door, his eldest brother's neighbor, Vanessa. Though she has a silver tongue that will slash him at every chance she gets and argue nonstop, he's turned on by it. Of course he'll have to convince her to go on a date with him if he can get her to stop tongue slashing him and use it on him in a….physical way. *wink wink* They did have an amazing and unintentional kiss last Christmas…
Vanessa on the other hand is head strong, feisty, bossy, and stubborn. She's gorgeous and folks doesn't take her seriously until she tells them like it is. She is known as the biatch. And of course she has a thing for the handsome youngest brother of her neighbor too, but she won't admit that to him that easily.
Both work as accountants for a finance company and have so many attributes in common: eating healthy, exercise, work-aholics, stubborn, and competitive.
Like I mentioned before, this was a great book. I really enjoyed it from the beginning but as it went on I was really hoping for the story to focus on the relationship between Cameron and Vanessa. Their relationship is the main focus of the story but the other huge focus of the story was the complication between Cameron's parents.
Some might say it was a disappointment for Cam's story to not only focus on his love life but to also add in his parents' problem. But family is a huge part of the McCauley so it made sense to have something to cause a problem in the story, it's just over powering Cam's storyline it seems.
But over all I thought it was a great story and a great story for Cam and Vanessa to explore and find love. I also enjoyed seeing the other brothers and their relationships grow and develop from the previous books.
So I'm super excited for the next book with the eldest and last brother to find, or finally admit to his feelings for this one chick.
So if you want a fun and wonderful story, this is a great book to pick up.
This book was provided by the publisher for an honest review.
Rating: 4 out of 5